Do you draw your illustrations on paper or a computer/tablet?
I draw all my pictures with a brush and watercolors on paper. Then I scan the drawing on the scanner and slightly edit it in Adobe Photoshop.
How to buy MyAquarelleGarden clipart?
To buy clipart:
1. Click the "Buy now" button.
2. Choose a payment method.
3. Enter your details (and discount coupon if you have one).
After payment, you will receive an email with a link to download the clipart.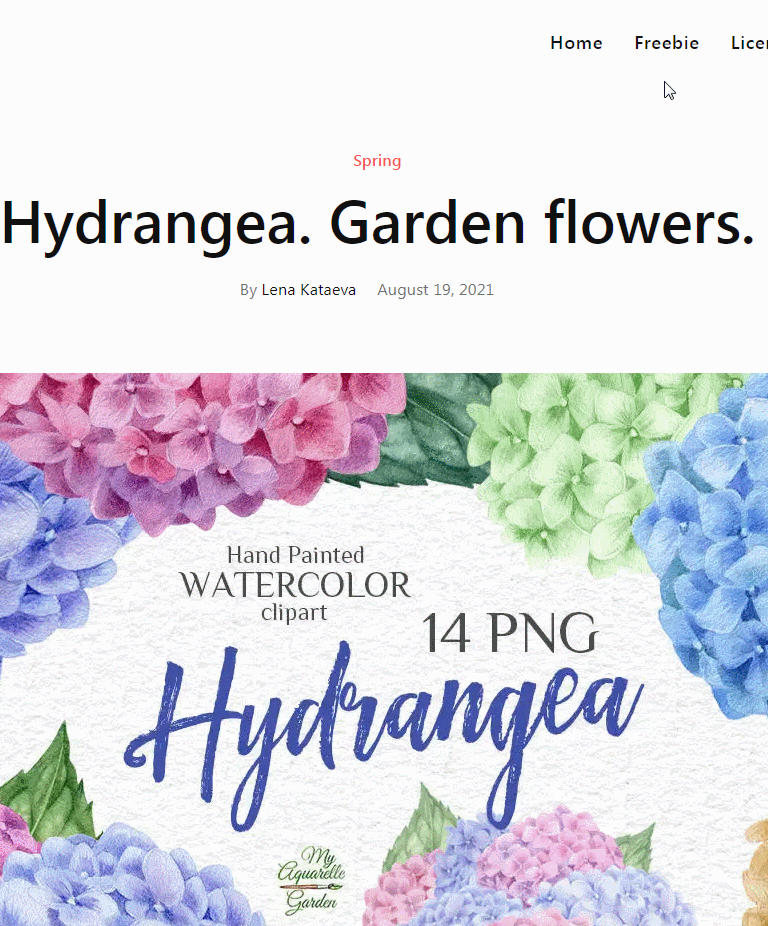 I use 2Checkout to accept payments.
2Checkout helps small businesses accept online credit card payments for physical and digital goods in 200 countries, including the U.S.
2Checkout accepts payments by credit card and PayPal. Also via Apple Pay, Google Pay, iDEAL and more ways.
Available payment methods depend on your device and country of residence.
2Checkout Services

are Payment Card Industry Data Security Standard (PCI DSS) Level 1 Certified. PCI DSS is the most important security standard for the card payment industry.
All transactions are made using a SSL connection (128 bytes) provided by VeriSign. The data sent from your browser to the 2Checkout servers is always encrypted. All of our servers are certified McAfee Secure and scanned daily by ScanAlert for known vulnerabilities. Additionally, 2Checkout does not store any sensitive credit card information.
Here is more information about how 2Chekout accepts and processes payments, protects your data, and so on.   
How will I receive my purchase after I order?
Via email. 
Your order details and download link will immediately be sent to your email — if you can't find your purchase email, try checking your promotions or spam folders.
I can't download my purchase!
I upload my files to a folder on Google Drive and Mega.
Usually, there are no problems with downloading.
But if this happens, please email me or drop message in the form below, and we'll find a way for you to get the files!
Do you have free watercolor clipart for download?
Yes! Take a look at Freebie, please!
Can I use your illustrations in my products or Print-on-Demand websites? 
Yes, you can use my illustrations to create your design and new digital products, to create physical products on P. O. D websites.
Personal and small commercial (up to 500 pieces/units) usage is OK and always included in the price.
Please note that your End Products must be significantly different from the original MyAquarelleGarden clipart purchased. You must combine the MyAquarelleGarden clipart with other creative elements.
To use MyAquarelleGarden clipart to create your End Products without additional elements, you must purchase an Extended License.
If you want to use the illustration for mass production (over 500 pieces/units), you need to buy a license. 
Bare in mind, you may not redistribute, repackage, sub-license, share or supply source files to a third party, in any shape or form.
I want to buy a commercial license for mass production with your clipart.
Wonderful! Please, take a look at Licenses page.
Any other questions?
Do not hesitate to write to me! I will try to respond as soon as possible.
Please enter a valid email, otherwise I will not be able to answer you.
Your Name: